As we prepare for the launch of eCompliance version 7.0, you may have noticed your app was upgraded to eCompliance v6.1.8 on Monday, July 27th - this was done to ensure a smooth transition for our customers.
eCompliance 7.0 will be an available update on August 5, 2020
• French & Spanish localization
• Easy-to-use app design
• Searchable templates & sites – Search for forms and sites to make finding forms easier and completing them faster.
• Pull to refresh – available on all listing views and syncs specific modules. For example, pull to refresh within Action Items will be faster because you're only syncing actions items.
• Notification feedback – Get notified when the device goes offline and when all items created offline are submitted successfully.
• Two-way sync for web-created action item attachments – Images/files will be visible and can be updated on mobile.
• Offline sync for action items – Works for action items with notification feedback upon completion.
• Better caching – keeps your place if you go back after navigating to a new screen.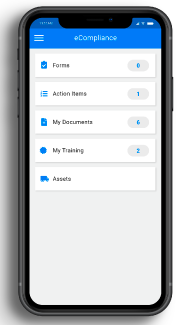 We are on a mission to help strengthen your processes and simplify your everyday tasks.
Please reach out to Support or your Customer Success Coach with suggestions or product ideas.