Actions Setup
Prior to using corrective actions for your inspections, you must setup the action to take once an issue has been identified for your inspection criteria.
Possible Action Types
Corrective Actions
Preventative Actions
Non-Conformance
Repairs
Create Action Event Type Group - Optional
Actions are simply another Event Type that will hold all of your different actions (Corrective, Preventative, etc.). Since this is needed to use Actions your account has come loaded with one Event Type Group called Actions and one Event Type called Corrective Action. You can either use the action group we created for you or create your own by following these simple steps.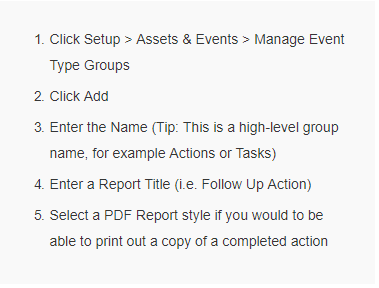 Create Action Event Types
Now you will create the specific actions you would like to create, assign and track. These could be Corrective Actions, Preventative Actions, Nonconformance or Repairs. Actions are defined in Field ID as any Event Type that is in an Action Event Type Group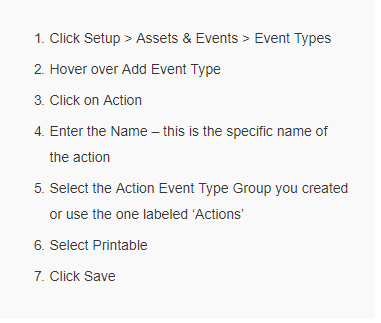 Priority Codes
Each action created will have a priority associated with it. You will notice your account will come loaded with 4 priority codes but feel free to customize these to match your terminology. You will be able to pull reports and create email notifications based on priorities. To customize priority codes: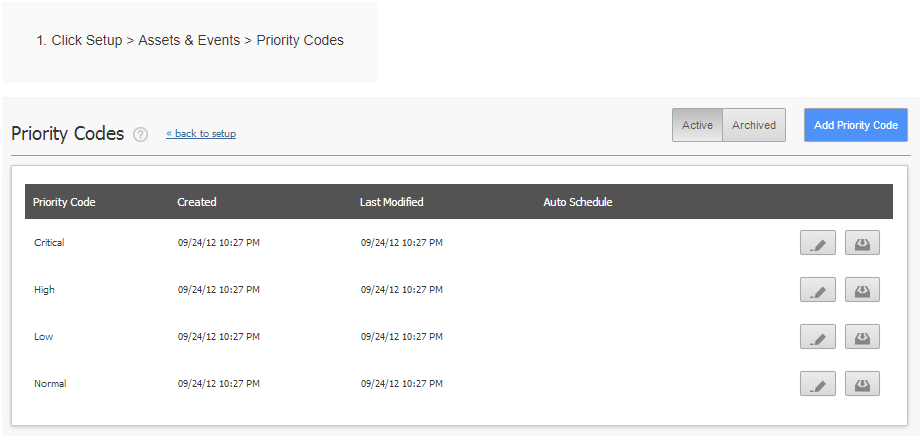 The priority auto schedule creates an automatic calendar entry based on the configuration for each priority code. In the below example the priority code Critical may have an auto schedule enabled for the same day, next day etc. You may also select a custom date on how the codes should be scheduled as well.
General Tips