To view all users
Click on Setup> Owners, Users & Locations> Users
Types of Users
There are four different types of users in Field ID, Administration, Inspection, and Reporting which have a cost associated with it and Person which is free to add.
Administration Users has the potential to access all of the features and is controlled by defining permissions.
Inspection Users can only perform and edit events and these too are controlled by defining permissions.
Reporting Users can search for data, run reports and may be added to Groups.
Person is only available for the tracking of assets, it allows you to assign an asset to a person eg. Fall Arrest Harness to an employee. There is no cost in creating a Person, they do not receive emails when an asset has been assigned nor do they have access to Field ID. They will receive an email when corrective action is assigned to them.
Usage Based User provides the ability to create an unlimited number of accounts, these users have access to a set amount of pre-purchased events.
Adding a new User
To add a new employee user click on Setup > Owners, Users & Locations > Manage Users the click the Add Usertab on the right side. Depending on the type of users you have purchased you will be asked to select what type of user account you would like to add, Administration, Inspection, Reporting, or Person.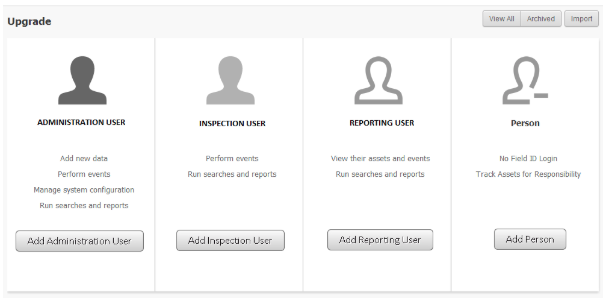 Once you select the type of user you would like to add, you will be taken to a form to enter the user details.
Usage Based User - Unlimited Amount
This user is only seen when the unlimited user license has been purchased. The purpose of the usage based user is to create an unlimited amount of accounts to perform inspections with a pre-purchased amount of events. You may speak to your sales representative for more information.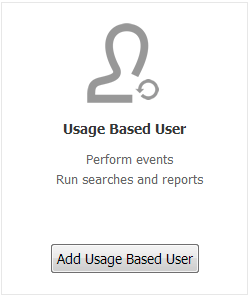 Permissions
Each user type's permission can be edited to provide the necessary access the Administrator can grant.
Administration User - An administration user may have certain permissions turned on or off depending on what the Administrator would like the user to have. They can have the same access level as an Admin or simply the ability to identify a new asset and perform an event.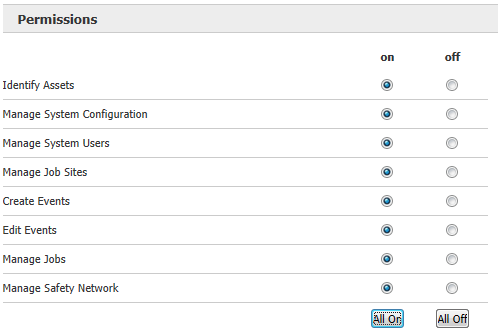 Inspection User and Usage Based- This user may perform inspections but not identify new assets, you may also grant them edit rights to completed events.

Reporting User - This user has no permissions to setup, they have the same views as an Administration User and an Inspection user, but cannot identify assets. They are able to edit Owner information and location, but cannot edit the Asset information, they are also limited by the Customer or Jobsite they have been attached to.

Adding a new Customer or Contractor User
To give access to your Field ID account to any 3rd party customer or person start by going to Setup > Owners, Users & Locations > Manage Customers (or Manage Job Sites)

From the list select the record that you would like to attach a user account to. Then select the Add User link. This will bring you to the Add User form. What you will notice is that the Owner field will contain the record that you just selected. This will ensure that when the user signs into Field ID they will only see the data that belongs to them. All other data will be segregated from them.
Adding a User to a Group
Once you have created your user, you may now assign them to a previously created group. Simply select from the list in the User Group Field. To learn more click on the link
Groups
Note : A person account cannot be assigned to a group!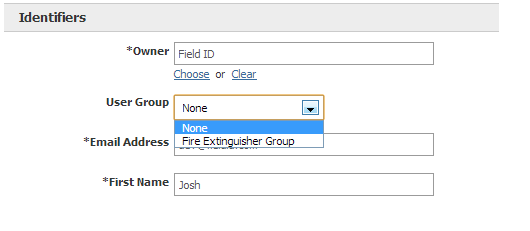 Upgrading an existing User
To upgrade or change a user account to a different type, first click on the user that you want to change. Next click on Change Account Type above the User Details. The next screen will allow you to change the account type. After you have completed this step you need to turn the appropriate permissions that the user will need on. Click Save when you are finished.

Resetting a Users Password
To reset a users password click on the appropriate user from the View All User screen. This next screen will give you two options: change the password now or send a password reset link. If you decide to change the password make sure to press Save when you are finished and if you click Send reset email to user, it will send the email to the email address listed in that users' account.
Archiving a User
To archive a user who will no longer need access to Field ID go to the View All Users listing page. Find the user you would like to Archive and click the Archive link on the right side. To view all archived users or to unarchive users click on the View Archived tab.

Importing Users
To import users in Field ID you need to click on the Import/Export tab in the Manage Users option in the Setup. Once the following page has loaded click Download Excel Import Template to download an excel file in which to enter your users. The file already has the appropriate fields inserted and contains a sample record to show you how the data must be entered. Once you have filled out all the appropriate information save and close the template. Next, click on Upload Excel File and browse for the excel file you just saved. The import tool will check the records you entered making sure there are no errors. If there are any errors, Field ID will tell you where they are and what the error is. Open the excel file, correct the errors and upload the file again. When there aren't any errors, Field ID will show you the progress of the import. Depending on how many records you entered into the excel file it may take a long time to complete. Once it has finished you can click on Setup, then the Owners, Users and Locations tab and lastly click Manage Users to view all of your imported Users.
Exporting Users
Field ID also has the ability to export all your users to an excel file. To do this you need to click on the Import/Export tab on the Manage Users screen.

Once here, click on "Excel File" under "Export Users". This will pop-up a window asking you to rename the file if you want to. When you are ready to proceed click " Save and take me to My Downloads". Depending on how many users you have this process may take up to 10 minutes. You can access the file from your Downloads page under My Account.