Event Type Groups Overview
The purpose of Event Type Groups is not only to group similar events but also to control what the completed events PDF report or certificate look like when they are printed. For example, Pull Tests will have a graph on the printed report where as any Visual Inspection will have a list of criteria and results on the printed report. By grouping them separately you can set the reports to print on the appropriate template.
You should create new Event Type Groups if:
You would like to be able to report on groups of events such as Audits or Visual Inspections
You would like a different style PDF report to be printed for a group of Events
Create a New Event Type Group
To create a new Event Type Group go to Setup > Assets & Events > Event Type Groups & PDF Report Style
This will show you a complete list of your current Event Type Groups. Click Add in the top right corner.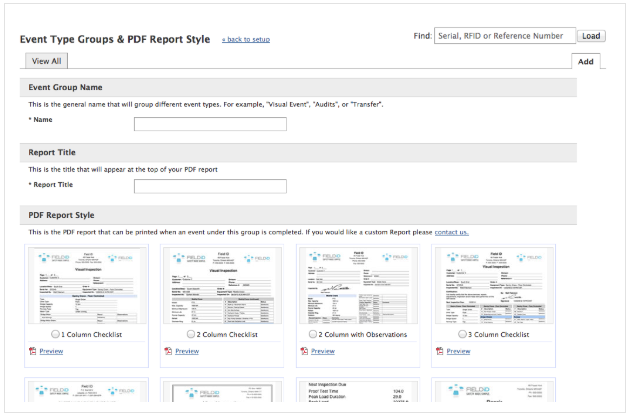 Name - this is the name of the group. Examples: Audit, Preventative Maintenance, Repair
Report Title - this is the title that will print on the PDF Report
PDF Report Style - select the style of the printed report. Click on Preview to see a large preview of what it will look like
PDF Observation Report Style - an Observation Report is a second report that can be generated to summarize Recommendations and Deficiencies recorded during the event
Associating Event Types to an Event Type Group
To link an event type to a specific group you have to edit the event type and select the group that you want to use. Also whenever you create a new event type you must select a group. PLEASE NOTE: Clicking " Click here to add a new event type" will create a new event type, not link an existing type to the group.
Changing PDF Report Styles for Existing Event Type Group
To change the way the printed report looks, you need to change the PDF report style. Go to Setup > Assets & Events > Event Type Groups & PDF Report Style

Select the Edit link beside an existing Event Type Group that you have created. You will now see all of the PDF Report styles that are available in your account. Select a new style and click Save