This article is a step-by-step guide to publishing a new Inspection form template, the same steps would apply in Incident/Hazard and Meetings tabs.
Form Templates must be created on the web app by a user with Manager or Admin-level permissions.
1. Click on Inspections tab.
2. Select Inspection Templates from the Manage list on the right side of the page.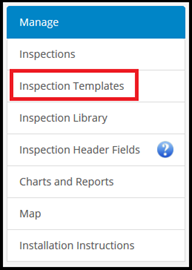 3. Click on Create New Inspection Template button and choose whether to create a template that has scoring or does not have scoring. The workflow as outlined below is for creating a template that does not have scoring (NOTE: you can easily add scoring to a non-scored template at a later date).

Choosing to create a scored template allows you to add point values to each answer, passing scores to each section and overall percentage scores to the template to potentially capture additional information for reporting and trending purposes. Click here to review a 20 minute Inspection Scoring 101 tutorial or review this article for more in-depth information on the scoring feature.
4. Once you have selected to build a scored or unscored template, you will access the Inspection Template builder. Type or copy/paste the title into the Title field. Add a Subtitle if needed.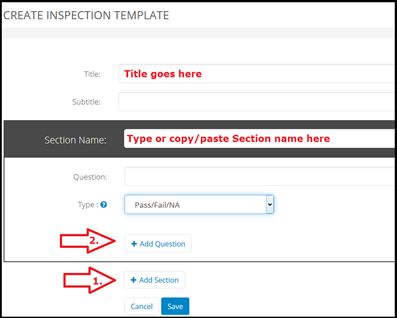 (NOTE: Subtitle will not appear when using the app so if you have similar forms for different crews/location/etc. it's best practice to denote the specific crew/location/etc. in the title)
Use the Add Section and Add Question to mirror your paper forms as closely as possible when transferring the questions into the eCompliance electronic format.
Click the Add Section button, give the section a title that best represents the information that will be gathered in that section
Click the Add Question button to produce the list of available question types: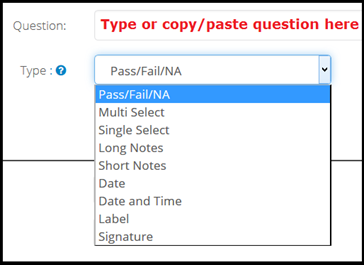 Pass/Fail/NA: shows as a green circle for Pass, a red circle for Fail, or a grey circle for NA
Multi Select*: shows all answers with a check box to the left of the answer. User can select multiple answers for one question
Single Select: shows all answers with a round button to the left of the answer on the web version, presents as a drop-down menu on the mobile app. User can select one answer for one question
Long Notes*: free-form text box with a 5000+ character limit. Best used for longer descriptions; example: 'Describe the incident in your own words'
Short Notes*: free-form text box with a 4000 character limit. Best used for capturing small answers; example 'Name of Qualified First Aid Responder onsite'
Date*: allows user to select a date using a calendar icon
Date and Time*: allows user to select a date using a calendar icon and a time using 15 minute increments on the web version and a drop-down menu to select the time down to the minute on the mobile app
Label: this question type is used when certain information or a particular direction needs to be relayed to the user of the form but no answer is required. Example: 'Emergency Contact Phone Number is 555-555-5555'
Signature*: creates a text box to type your name on the web version; creates a text box to type your name and a second box to capture an electronic signature on the mobile app
*You can choose to make the question types with an asterisk mandatory by selecting the box to the right of the question:

Continue adding questions and sections as appropriate until the template is complete.
5. Once you have finished creating your template, click on Save at the bottom of the page. You will be automatically directed to the Inspection Templates view. Make the template a form by clicking the Publish Now button.