Once a form template is created, you can start conducting a new form with the template in our web app. We will create a new inspection in Inspection tab for this article. The same steps would apply in Incident/Hazard and Meetings tabs to create a new incident or meeting.
Click on Start New Inspection button on the left of the screen to pull up the list of forms
Select the form you want to use from the pop-up menu.
The General Information header at the top of the form is system-generated and is the same for all your company's forms. The Organization, Site, Prepared By and Date fields will automatically populate with your data. If you have membership to more than one site use the arrow to pull up a menu of your sites to select the correct one. If you do not enter data in all other fields it will not prevent you from submitting your form.
Scroll down through each question, entering all relevant data in the correct fields.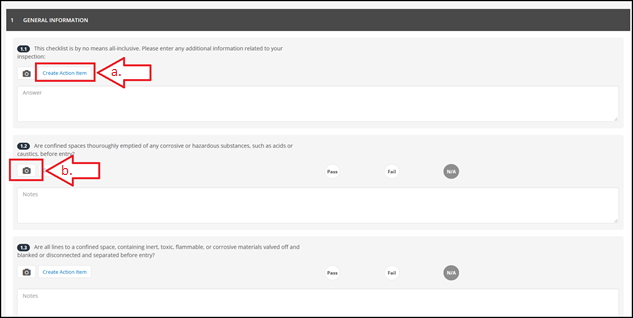 a. You can create Action Items for each question.
b. You can also attach photographs or documents to provide additional evidence. Locate and attach the relevant photo evidence on your computer's file system by clicking the camera icon
4. Once you have entered all relevant data, click on Submit button at the bottom of the form.
You can either:
a. Save the form as a draft to be revised/edited later
b. Submit the form to your Supervisor or Manager for review
Your company's account has already been set up so that once you submit a form, eCompliance will automatically notify your Supervisor/Manager that the form has been submitted.