1. Click on Documents tab.
2. Click on Upload New Document and you will be in the document management view. Maximum file size per upload is 10 MB although there is no limit to the total number of documents you can upload.
TIP: If you have a document larger than 10 MB such as a health and safety manual, split the document into smaller sections. Use tags to keep the sections of the document together for easy storage and retrieval!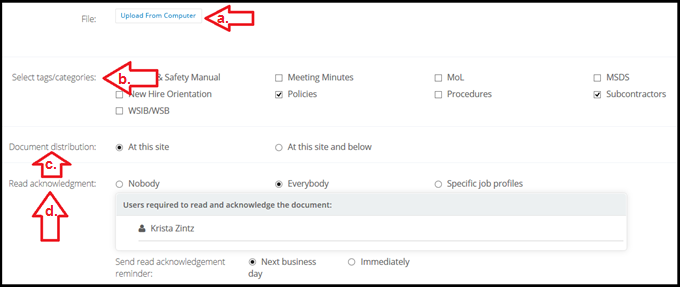 a. Click Upload From Computer to find the file on your desktop
b. Select the tag(s) that best represent the contents of the document by checking off the box(es) that will appear in this section after you have created the tags
c. You can distribute the document to your site or others by using the Document Distribution button. This will allow the documents to follow your company's necessary distribution path. For example: if you upload a document at the Parent site and set distribution to 'At this site and below' all users at all sub-sites with permission to view documents can access the document. If the document is for a specific sub-site you can have the document accessible at just that site by:
clicking the blue Change Site button at the top left of the page
selecting the site the document needs to be accessible from the site tree menu
going to the Documents tab within the selected sub-site
uploading the document to that sub-site and leaving the distribution as 'At this site'
d. Set a Read acknowledgement to ensure that employees have read and understand the content of the document. You can choose to have eCompliance send automatic email notifications immediately or the next business day by selecting the correct button.
3. Click on Save once you are done!