1. Click on the Documents tab.
2. Click on Upload New Document and you will be in the document management view. Please note, the maximum file size per upload is 10 MB. The cap ensures mobile workers can easily access documents. There is no limit to the total number of documents you can upload.
If you have a document larger than 10 MB such as a health and safety manual, split the document into smaller sections. Use tags to keep the sections of the document together: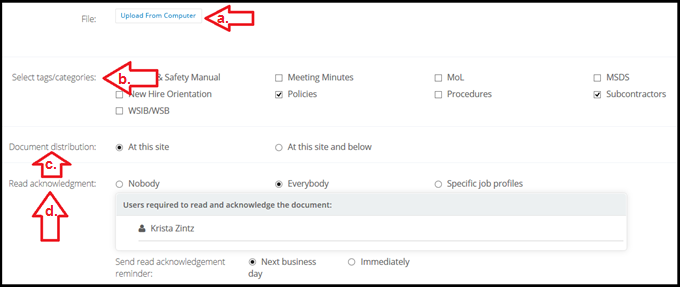 a. Click Upload From Computer to find the file on your desktop
b. Select the tag(s) that best represent the contents of the document by checking off the box(es) that will appear in this section after you have created the tags
c. You can distribute the document to your site or others by using the Document Distribution button.
This will allow the documents to following your company's necessary distribution path. For example: if you upload a document at the Parent site and set distribution to 'At this site and below' all users at all sub-sites with permission to view documents can access the document. If the document is for a specific sub-site you can have the document accessible at just that site by:
clicking the blue Change Site button at the top left of the page
selecting the site the document needs to be accessible from the site tree menu
going to the Documents tab within the selected subsite
uploading the document to that subsite and leaving the distribution as 'At this site'
d. Set a Read acknowledgment to ensure that employees have read and understood the content of the document. You can choose to have eCompliance send automatic email notifications immediately or the next business day by selecting the correct button.
3. Click Save.
An alternative solution if the above doesn't work for you:
Convert the PDF to add JPEG file then reduce the JPEG file size by half (50%)
The next step will be to reconvert the reduced JPEG file to a PDF.
**Steps to convert the reduced JPEG file to a PDF:**
Search for the required JPEG file and right-click on the " Open With" option.
Select adobe reader or any other pdf version you have on the system.
Once the file is open, click save and the file will be saved in pdf format.
*Please note, that you can go as small as you want with this technique, however, the more you reduce the JPEG in size the more you drop in quality.*