We're happy to announce that we're introducing a new way to sync on the Field iD app. It includes some new features that aim to help improve loading times and performance on the mobile app. Past event history and attachments can now be made optional which will reduce the time it takes to sync the app. Of course, they can still be downloaded on-demand when needed.

These features will be available to every member of your team once it is enabled for your organization's account.

To understand more about this feature, please continue reading this article. For the purpose of distribution, a downloadable document highlighting all the key features is also available at the bottom of the page.
This release is scheduled to be rolled out starting on May 29th, 2023.

---
Table of Contents
Download Toggles added to the Settings menu
Warning message in the Settings menu for downloading all data
On-demand downloads for attachments and past events
New Menu for Recent Activity Options
1. Reduce Sync Times with the new Download Settings
If your organization has a large number of assets and job sites, it may take your device a long time to sync your app after logging in or when you need to sync your app to take your assets offline and back online.
To tackle long sync times, we're introducing new download options. These options allow you to choose whether you wish to download all past events, attachments, or past event images. Toggling these options off will significantly improve the amount of time needed for the app to download your assets' data.
Things to keep in mind when using the new toggles:
By not downloading all asset-related data, you will not be able to view your asset attachments, start from previous events or edit a past event. The settings can be changed at any time if you wish to download all asset-related data. In addition, asset-related data can also be downloaded individually on their respective pages.


After successfully saving the toggle settings, the changes made will persist across your subsequent login sessions. If you are sharing a device with another member of your team, please make sure to check that the settings are suitable to your workflow prior to completing your tasks.
You can find this toggle in two places:
Login Settings Page - This page is found on the Login Screen of the app.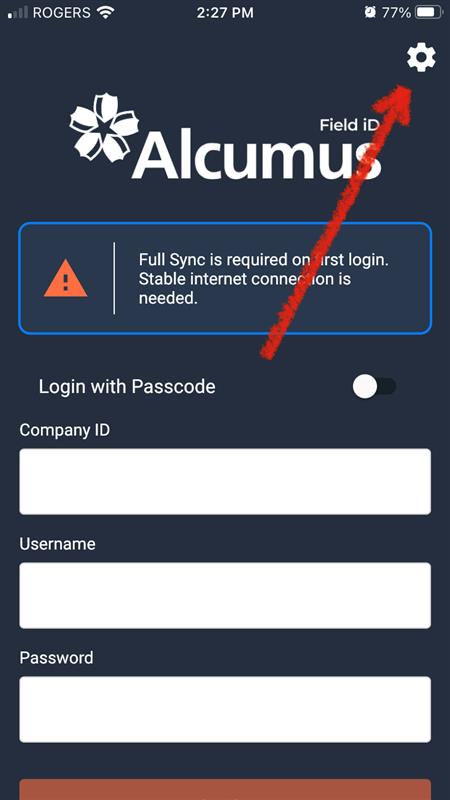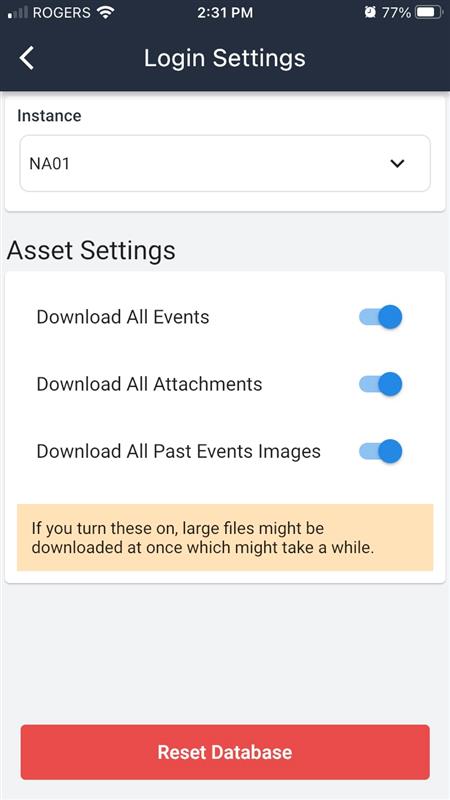 Settings - This page is found in the app's main menu after logging in.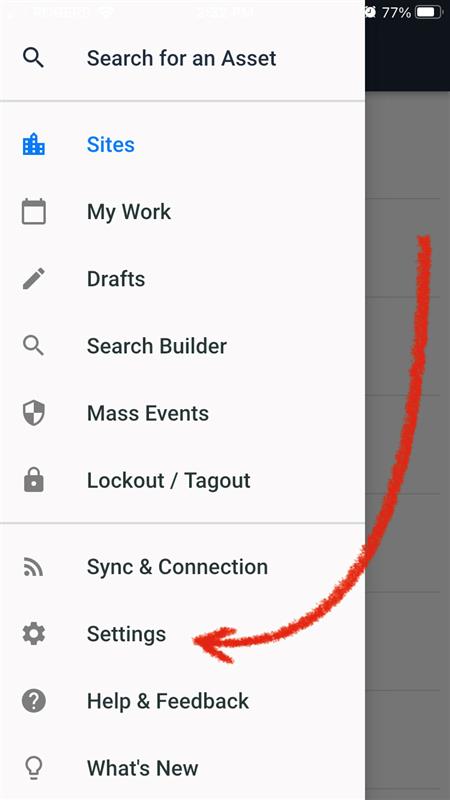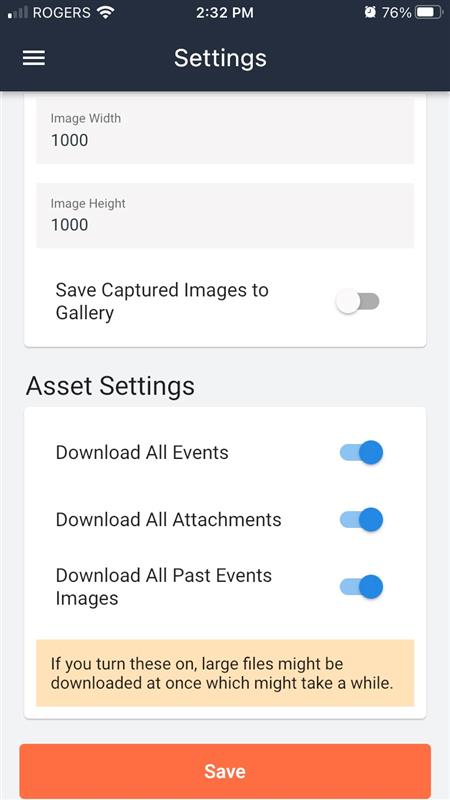 After making changes to the settings page, please tap the 'Save' button to apply your changes.
2. Warning Messages and Confirmation Prompt
If you choose to turn any of the options ON, a warning will pop up to let you know that your app will start downloading the assets' related data once the changes are applied.

When in the Login Settings, tap 'Ok' to confirm or 'Update Default Settings' to go back to the settings.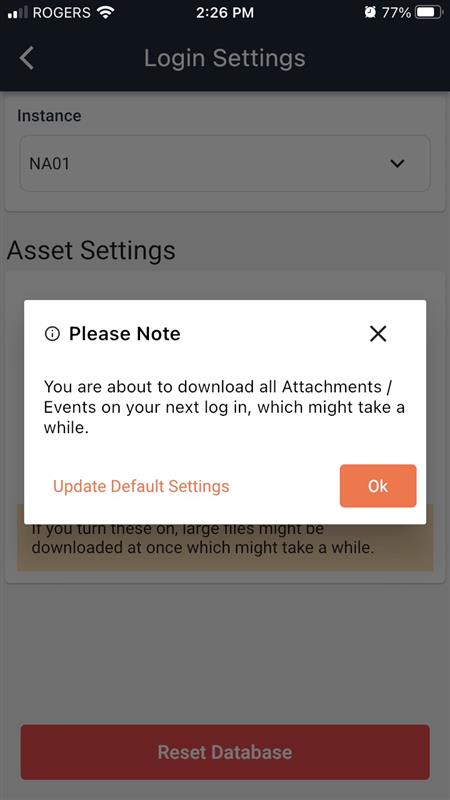 After logging in, when in the Setting page, tap 'Download Now' to confirm and download the selected data, or tap 'Update Default Settings' to go back to the settings page.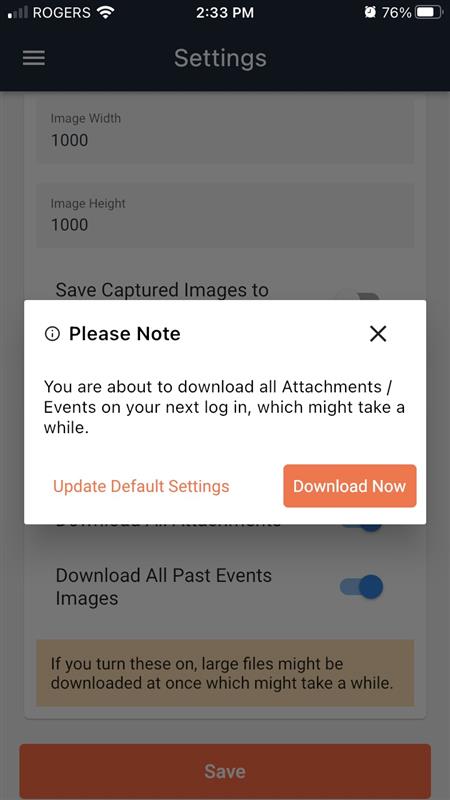 3. On-Demand Downloads for Individual Asset Related Data
To download an asset's related data individually, navigate to the asset's detail summary page. A 'Data Unavailable message will let you know that you cannot view past events as they have not been downloaded. Tap 'Download Now' to download the missing asset information.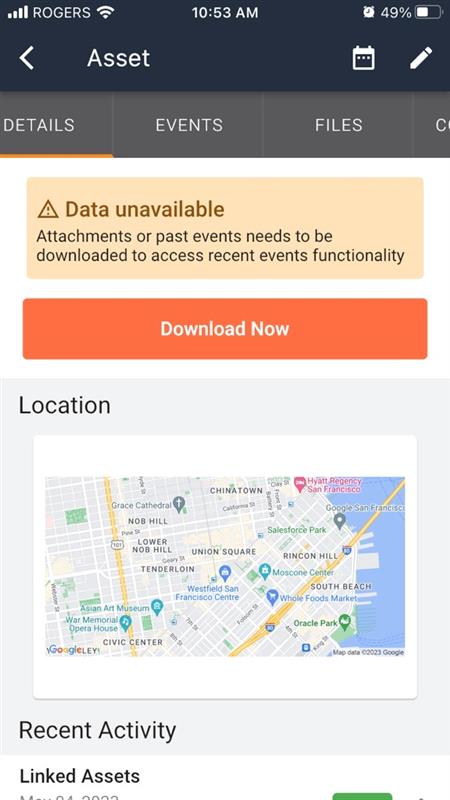 When the data is downloaded, you'll receive a message that the download is in progress.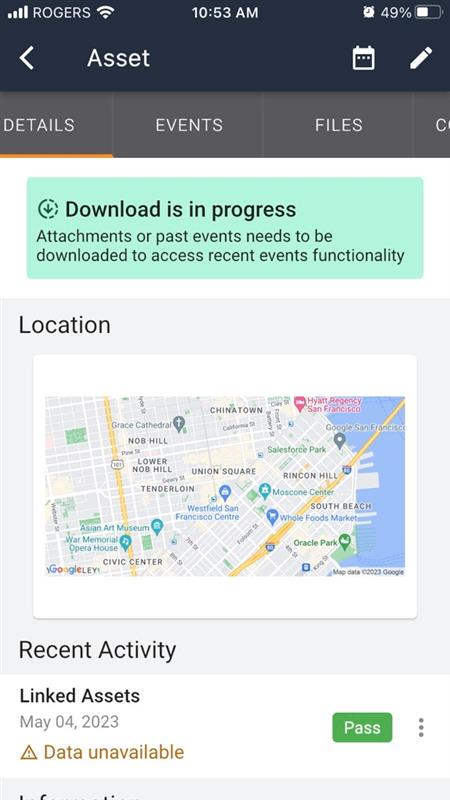 You will need to keep the page open to complete the download. To ensure that the sync times are reduced, refreshing or reloading the page anytime during or after the download is complete will cause the download to reset. When it is reset, the attachments or past events will not be downloaded to your device's local storage. This means that whenever you wish to view the activity, you will need to re-download the events.

To change this setting so that you can grab all asset-related data, please switch the toggles in the Settings page to enable all downloads.
4. New Menu for Recent Activity Options
To align better with the new download process, we're introducing a new menu to replace the pre-existing left-swipe menu under Recent Activity. Simply tap the three vertical dots next to a listing under Recent Activity, and the new menu will open up at the bottom of the screen.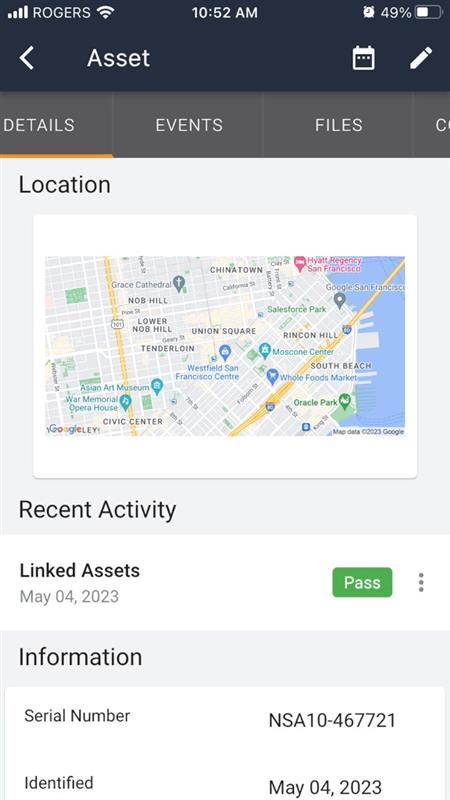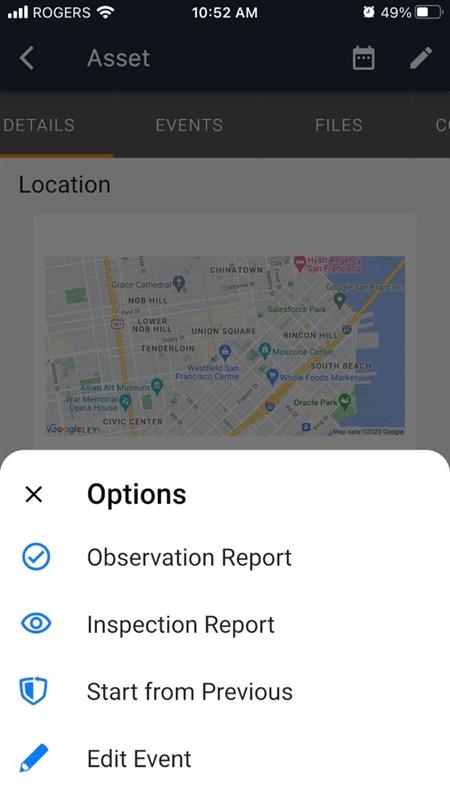 If asset download settings have been turned off, the 'Start from Previous' and 'Edit Event' options under the new Recent Activity options menu will not appear due to event data not being downloaded.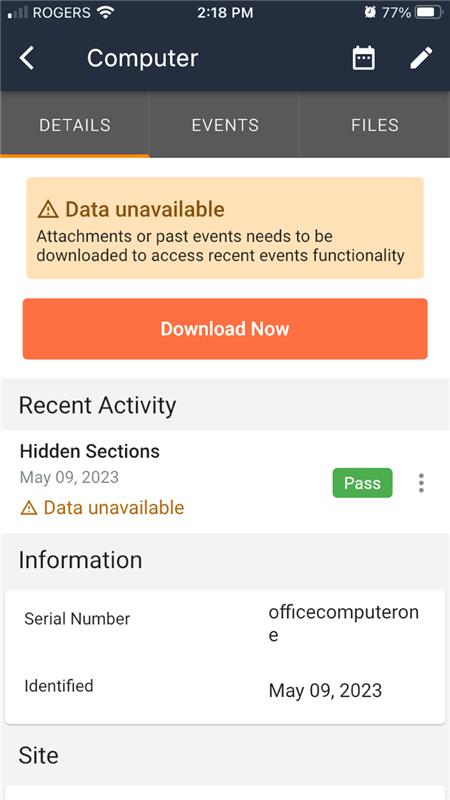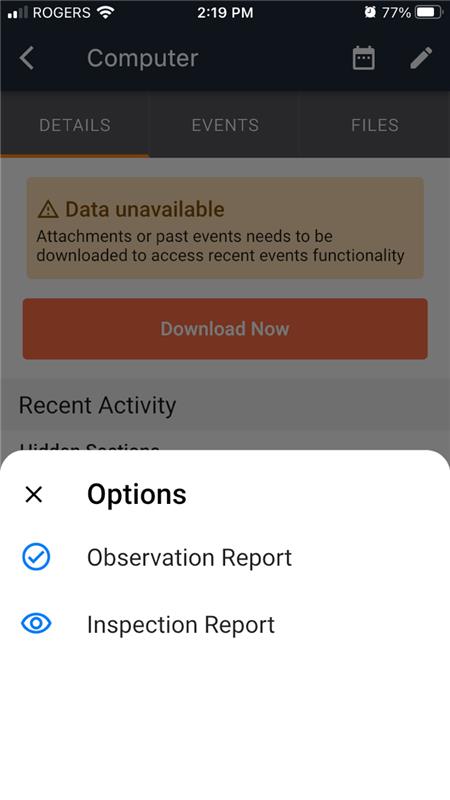 To make those options available to you, you will need to download the past events and attachments by tapping the 'Download Now' button.