Issue:
Server error comes up right after logging in. You are stuck at the error screen even after clicking on Go to Dashboard.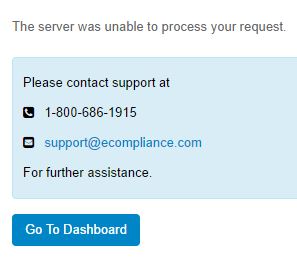 Cause:
You account is terminated and does not have any site associated.
Resolution:
Make sure administrator for your company activate your account first then click here to log in again.
Alternatively, you can clear the browser cache (instructions) to allow you to get back to login page again.
NOTE: This issue was addressed in an update on May 30th. Please contact support@ecompliance.com directly if you continue encountering the loading issue.